catch & release
re. the cloth & the comic
Disclaimer: this post has no flow or theme or significance to your life.
I was going to write about what made me laugh this week, and weirdly most of them happened to be related to butts. For example: at the market yesterday, I walked behind a women who ripped a super high-pitched fart at an almost inaudible frequency. Earlier in the week it was brought to my attention how bizarre some renaissance paintings are. Below, you will notice "The Three Graces" by Peter Paul Rubens, circa 1639. Take a moment to admire the splendid curves & strength of the natural female body.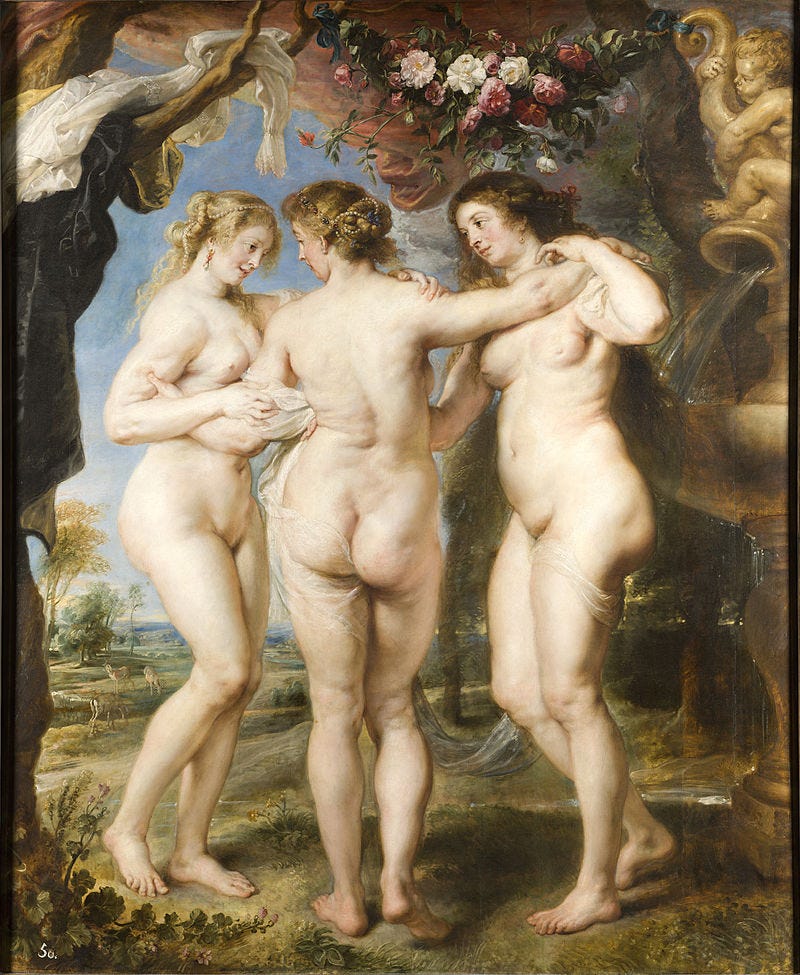 If you spent a moment on the tushies, you may have noticed the wisps of cloth that weaves between the women. I'd like to bring your focus to the middle figure. Now can you identify where the cloth is located? Yes. In her butt crack. Let that sink in (pun wasn't intended but it is now).
Mr. Peter was inspired by the Greek mythology meaning he didn't use real life models. The strategic placement of the scarf nestled in the cheeks was a deliberate. choice. How long do you think he spent detailing the perky booty? Also WHY? What inspired this artistic decision? It's a bit immature & cruel. This Grace is subject to a permanent, perpetual wedgie.
This is another body part story, we just gotta do a 180. At kickball last week, I noticed that we were not only competing with players down…but also a fly down 😯🙅🏻👖Because I had never met this guy & he's a guy, I tried to solicit my friend Justin to give him a little *nudge nudge down there* signal. Justin can motion towards another guy's crotch. I can't slash don't want anyone to question why my eye wasn't on the prize (as in observing the game…wow this turned out SO much dirtier than intended…). After 10 minutes I checked in with Justin, but he still hadn't said anything because he was "up next to kick" mhmrightokay.
Every time I looked at Guy's pants I felt a tinge of embarrassment, both for him & my wandering gaze. Eventually I had to take it into my own hands (not literally). If we were buddies I would've joked, "I thought you were crazy, now I see your nuts!" But we are complete strangers & that would be extremely inappropriate. Instead I leaned closely to his ear - avoiding any potential eye contact - and whispered, "just so you know, your zipper is down." He didn't inculpate me with absurd accusations. He discretely zipped his jeans & thanked me. As I strutted into (onto?) the outfield, I celebrated my act of courage. Moral of the story: suck it up & tell someone if they've got a boogy poking out or if a poppyseed is wedged between two teeth. They will be forever appreciative & you can stop obsessing over [insert social no-no here] & start tuning back into the conversation.
Third random insight into my life. When people ask, "do you like kids," I'm hesitant to exclaim "YES! I love them!" Because honestly, after spending 11 + years nannying, wrangling sugar-crazed summer campers and being an unpaid, upstanding role model for Daria since 1997, I realize that being responsible for a child is similar to living in a frat house: sleep is a luxury, everything's broken, and unpleasant smells waft from unidentifiable places.
What I do appreciate about most children is their uncensored honesty & lack of humility. While in Paris I nannied one of the cutest & equally feisty little French girls ever 😍👯. After her Friday evening ballet lesson, we would spend a bit of time at the park before walking home. Whenever I called, "Fantine, c'est l'heure. On y va," she would press her palms together and - in English - plead, "10 moe minoots pleez!" This is 1. ADORABLE 😍👯 but 2. manipulative! The only time Fantine flexed her English was when she greeted me, "hewwo! I'm fine and you?" or in an effort to pull at my heart strings. It took everything in me to wipe my smile away & not give in to her precious, squeaky French accent.
Okay, that whole Fantine frenzy was a tangent. What I intended to tell you about was what I overheard this week. As I was crossing the Embarcadero, a girl Fantine's age (but significantly less chic & cool) commented, "the walking man always looks like he's scratching his butt." Which I had never thought about…it's brilliant.
On that noteeeee as I already mentioned, there is no progression to this post. I don't really know how to conclude it, but I think Tundra comics are always a solid Sunday addition: