RIP Corona Carole
*hoping both c-words are old news soon*
hey there all you cool cats & kittens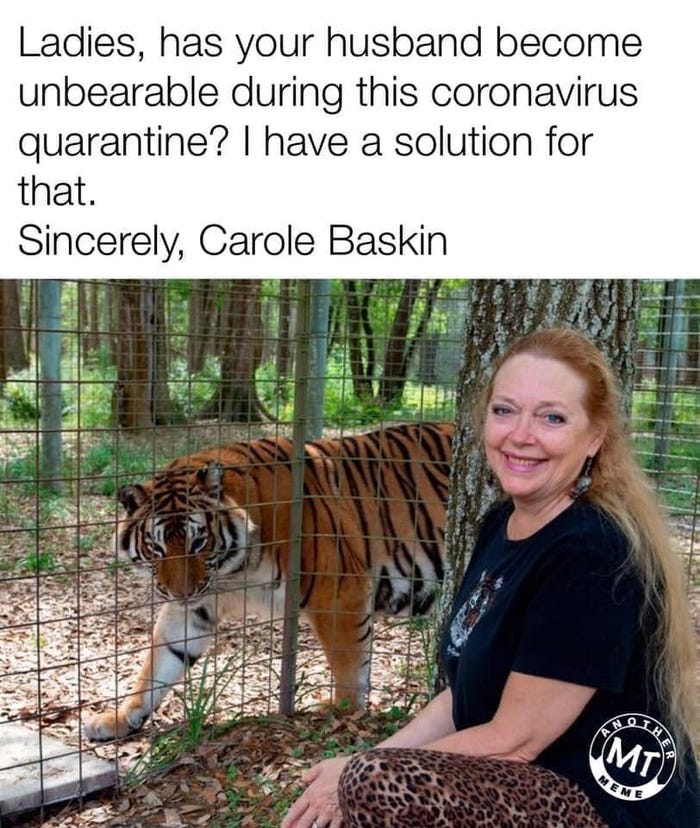 (if you haven't already met 2020's boredom blaster, "Corona Carole," please do yourself a favor and get acquainted).
When I'm not trying to process one of the latest facts about Joe Exotic, like his casual admission, "I've had my days of meth," I've been entertained by sorting through "Emily's Elementary School Box!!!" If you are looking for a laugh, a face-palm moment, or honestly some pretty solid advice, I'd suggest finding some of your own oldies-but-goodies.
Not much has changed since 2000.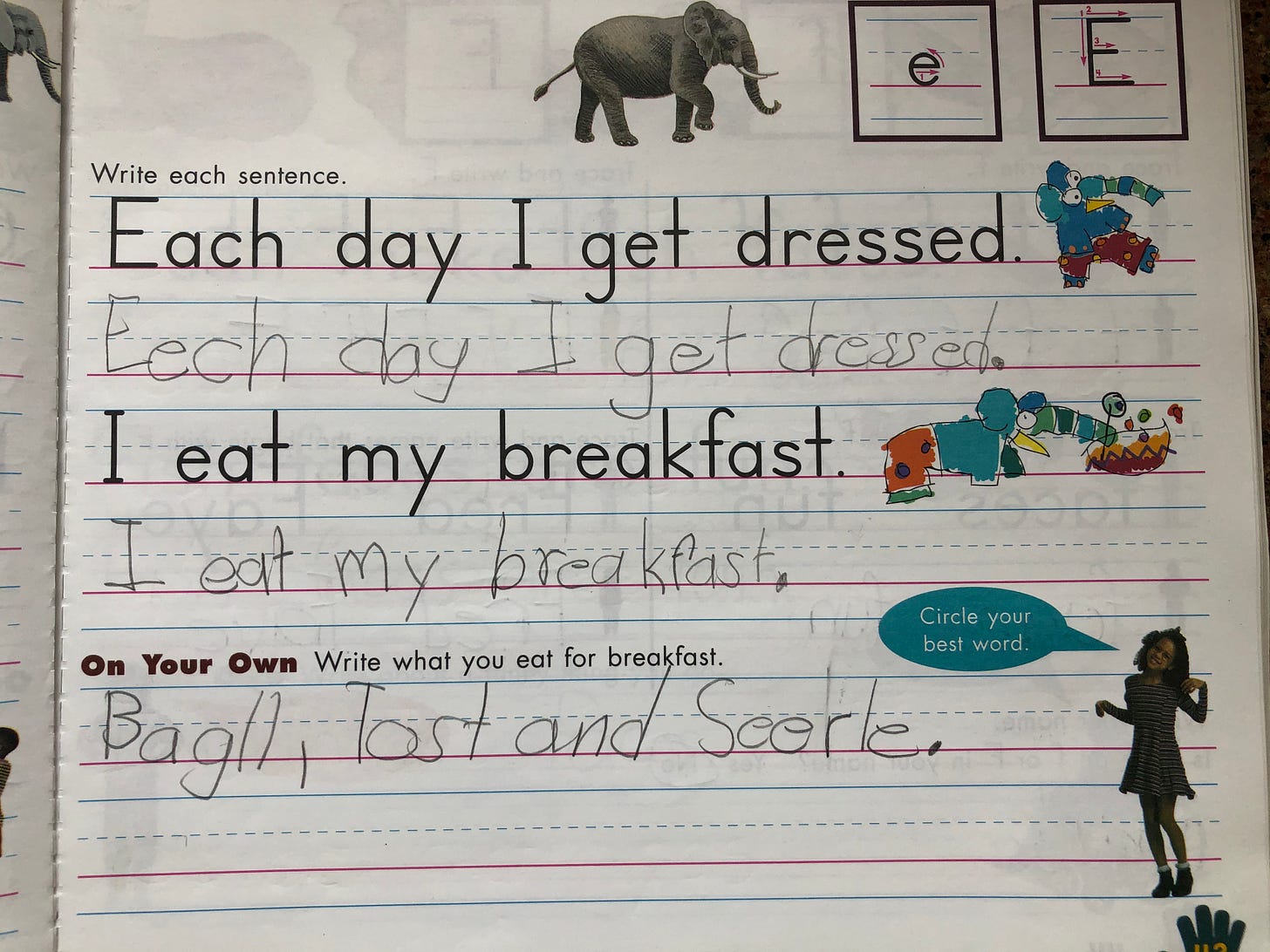 I'm still loyal to my brown breakfast color palette. Though now it's oatmeal and almond butter instead of bread, bread, and crunchy bread.
During my daily quarantine-routine - just like little Emster 🥰 c. 2000 aww - I take a field trip to the grocery store.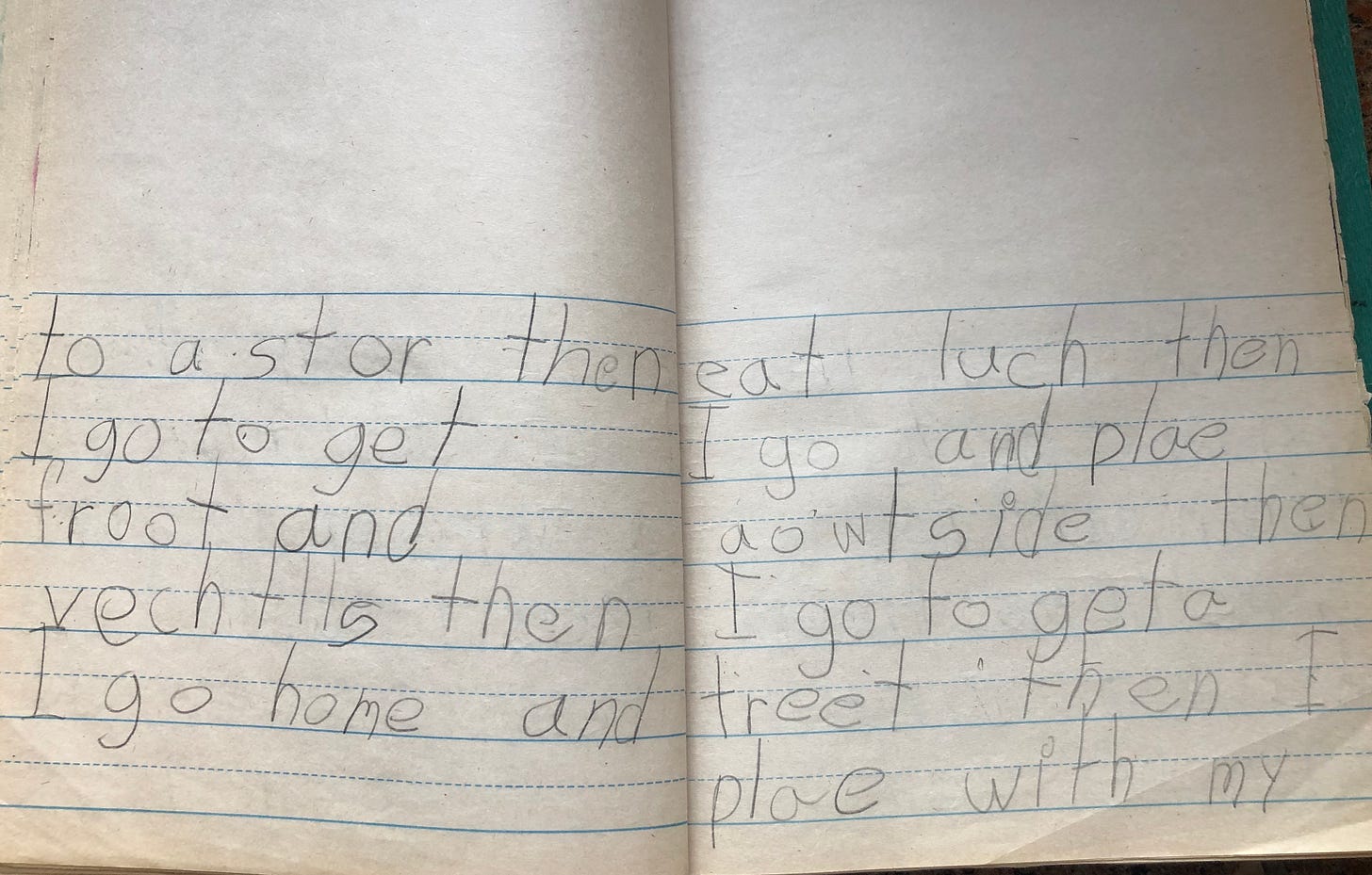 Every highlight of my day revolved around food: breakfast, supermarket run to get fruits & veggies, lunch, afternoon treat…all that is to say that social distancing hasn't dampened my mood too much given that my "office" is conveniently located at the kitchen table.
Throughout my childhood, my parents underscored the importance of intellectual & physical challenges.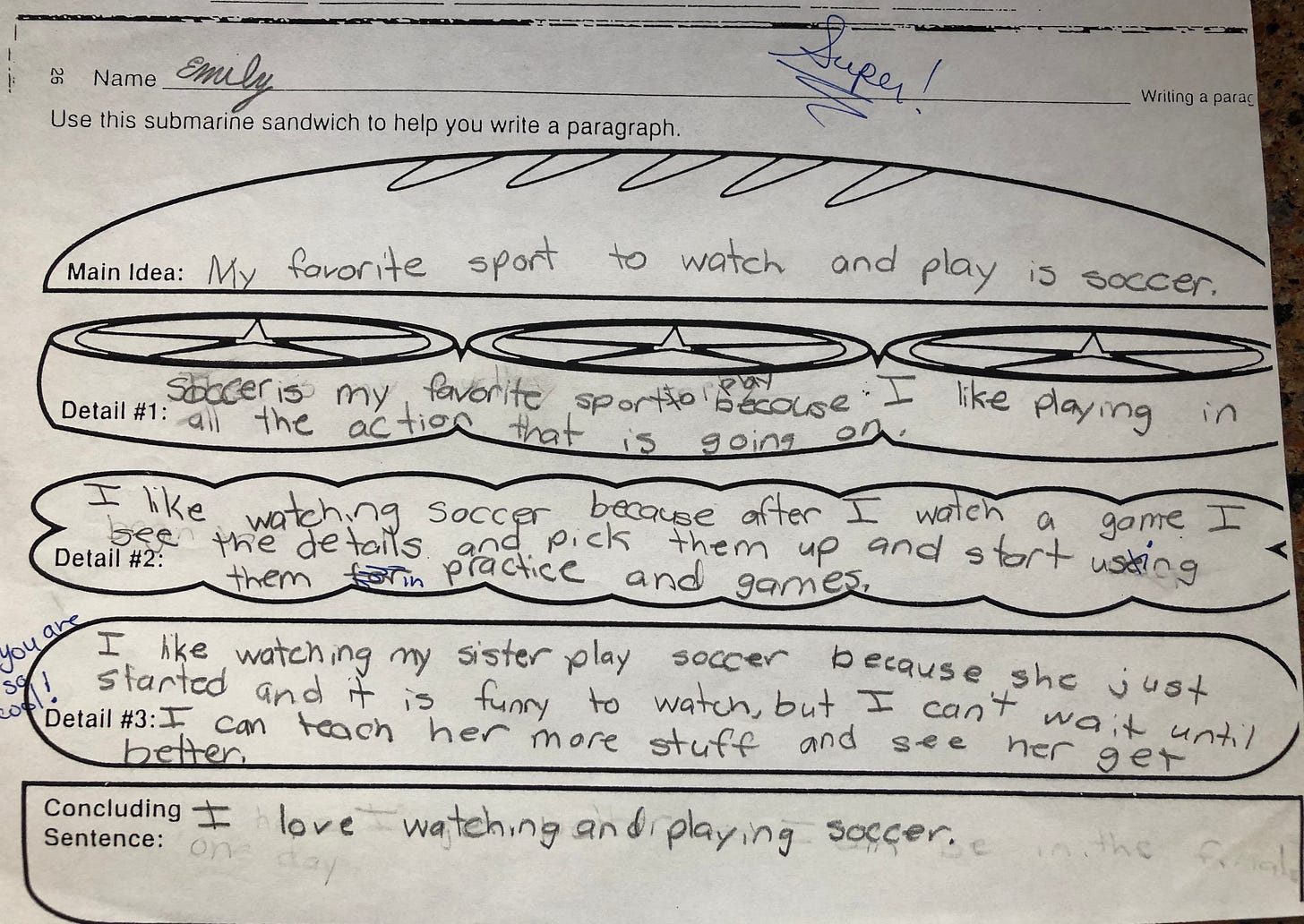 Daria & I both try to incorporate some exercise into our quarantine-routine. Now, though, I don't like watching her do burpees or leg raises or (two-inch) push-ups. Probably because she's stronger than I am which makes it not funny anymore.
Seven-year-old Emily loved her sister, and she had a way with words. She celebrated Daria's efforts & always kept Daria's ego in check.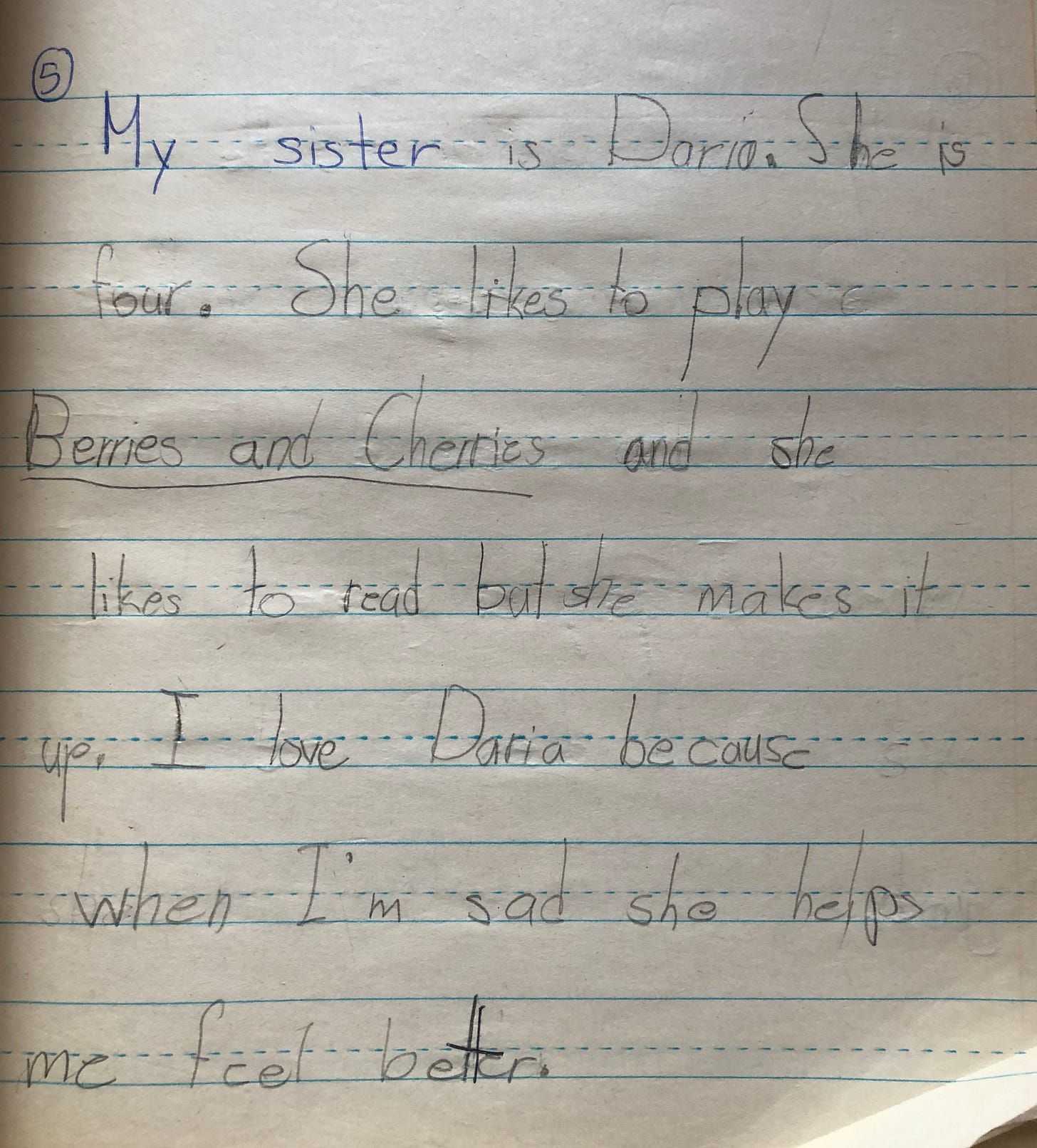 During this unexpected family bonding period, we've been enjoying each other's company. Not sure how this quarantine situation would have played out 12 years ago…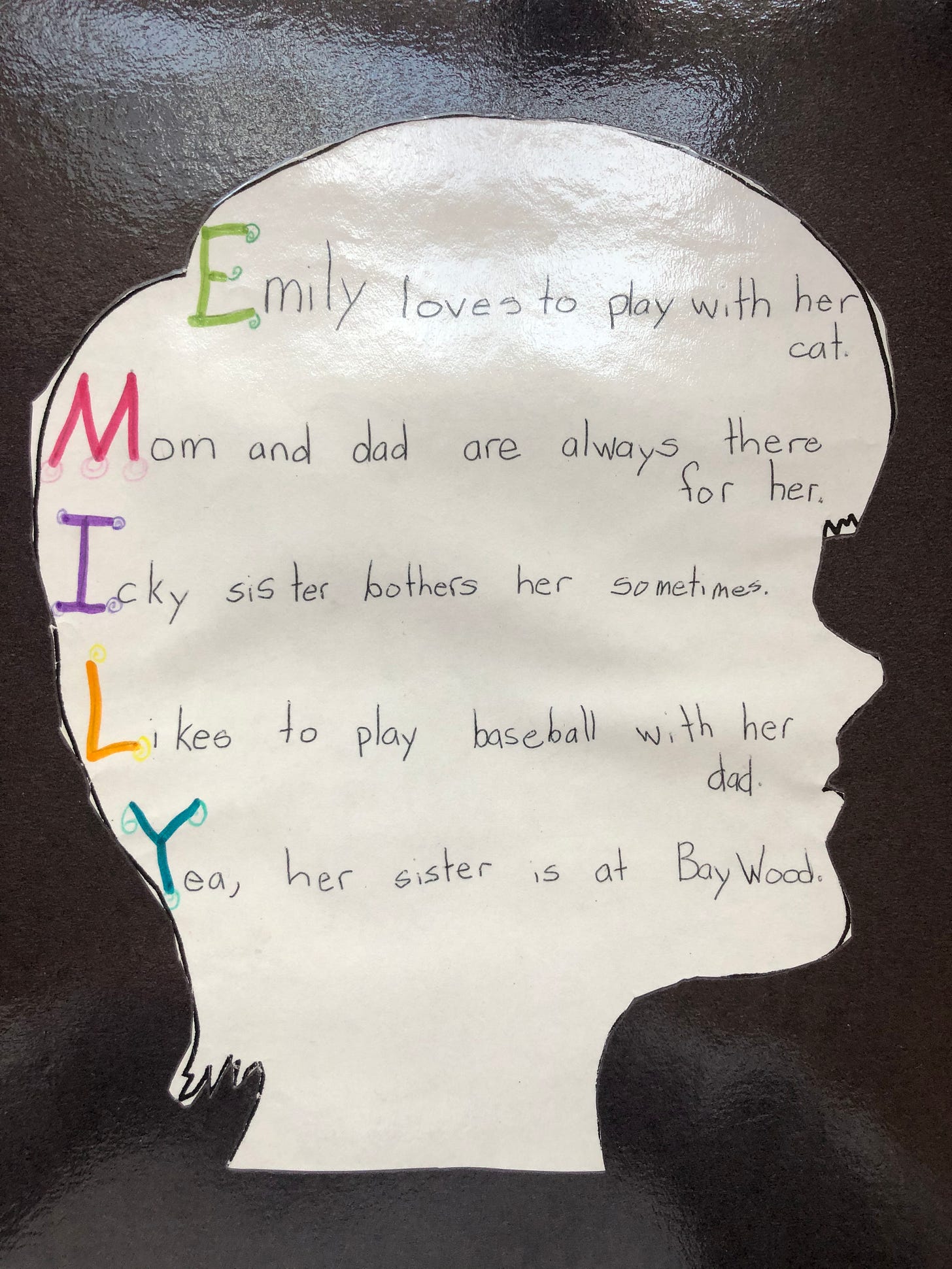 Does Daria still know EXACTLY how to irritate me? Absolutely. But I wouldn't call her icky anymore. More like "inspiring"🥰 awww
I've refined my skills to earn those brownie points from Daria. For example, I let her race to the car to claim the front seat without comment. At night I crunch my toes under a small corner of the fuzzy blanket because she's "comfortable and warm."
When I was younger I wasn't as discrete.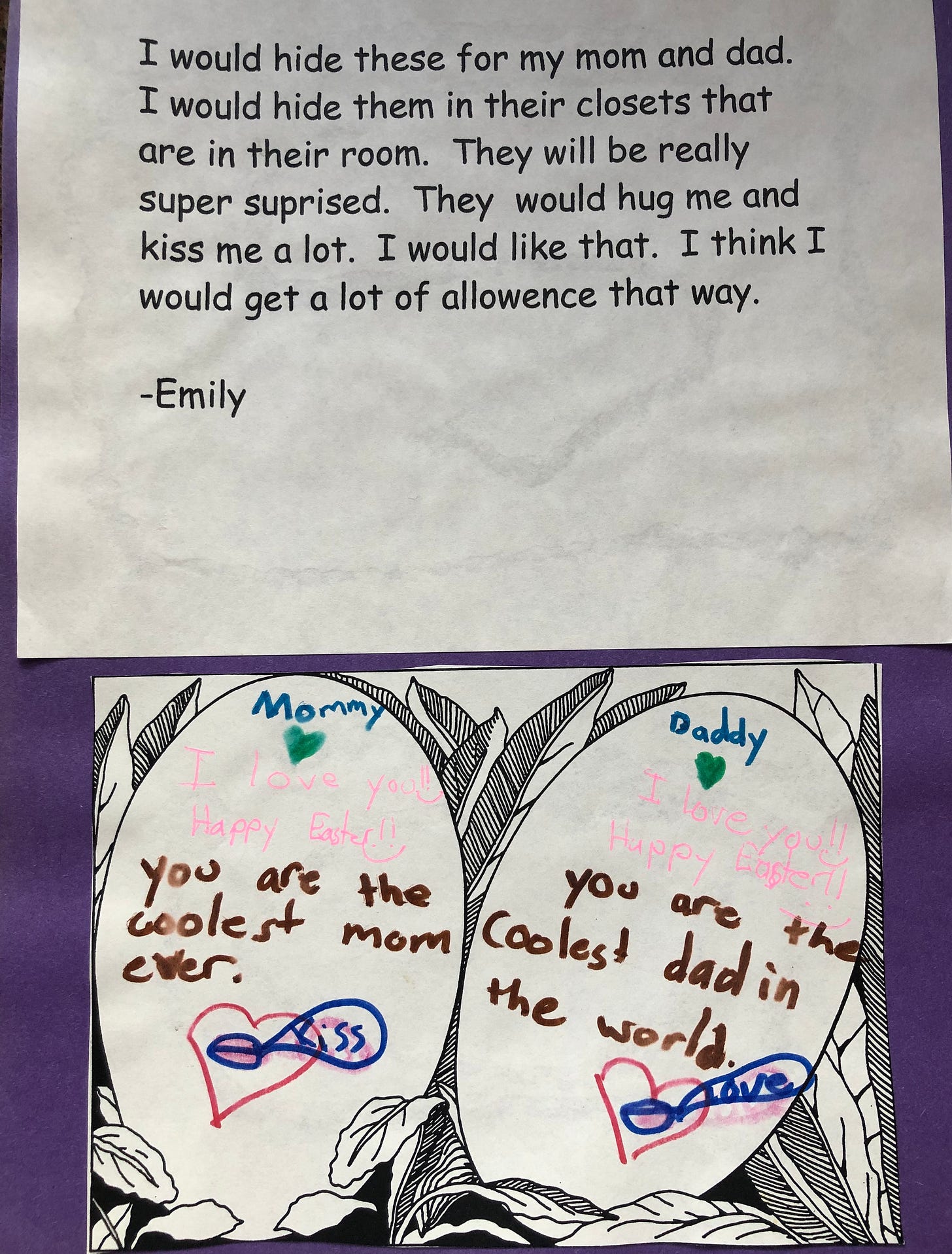 My bribery scheme to hide Easter eggs for my parents didn't work too well. When I showed my dad, he gave me the over-the-glasses-side-eye: "you could've used that money for spelling lessons."
In an uncertain, unpredictable world, there is hope (though sometimes I question that knowing that a "completely insane, gay, gun toting, drug addict, fanatic" can star in the #1 show on Netflix).
Over the course of a lifetime, we all have to confront barriers & overcome adversity. Joe Exotic had to grieve the reality that his two husbands weren't gay. They only entertained Joe's fantasies to sustain their meth addictions ouch. America has to come to terms with the fact that our president doesn't only test negative for COVID-19, but also real hair, empathy, and natural pigment. In fourth grade I had to sacrifice a passing homework grade…

Over the next few weeks let's remember to take a deep breath. Amid the crisis there are silver-linings, like the fact that my family surpassed our world record for eating this many consecutive, home-cooked meals together. And the ways in which we find ourselves in solidarity with Joe Exotic.