When sitting at a table to eat, which direction do you pass platters or bowls of food?
Throw it across the table, it's faster.
One Fall morning on the train to middle school, my friends were complaining about this boring, dreadful, awkward class (that includes dancing with boys ew), that was starting the following week: cotillion. As an impressionable 6th grader, I wanted to be in the cool cats & kittens club. That evening I asked my mom if I was invited into this~elite~ program. I was (even though there was no proof that I needed the extra lessons). So where was my letter? Disclaimer: you might not believe what you are about to read.
My courteous, polite, well-mannered, Sprague-of-a-father had ripped it up & recycled it. If you have met my dad, this is HY 👏🏻STER 👏🏻I 👏🏻CAL 👏🏻. His reasoning was grounded in truth, though: Spragues are born lovely, obedient, charming 👼🏻's. We don't need to be trained because etiquette pulses through our veins.
No worries about my lack of formal training. I've learned some important & applicable manners lessons since then. Quarantining has actually been a relief because I don't have to constantly question my presentation in public. When I do venture out, though, I've got instructions are clearly written out.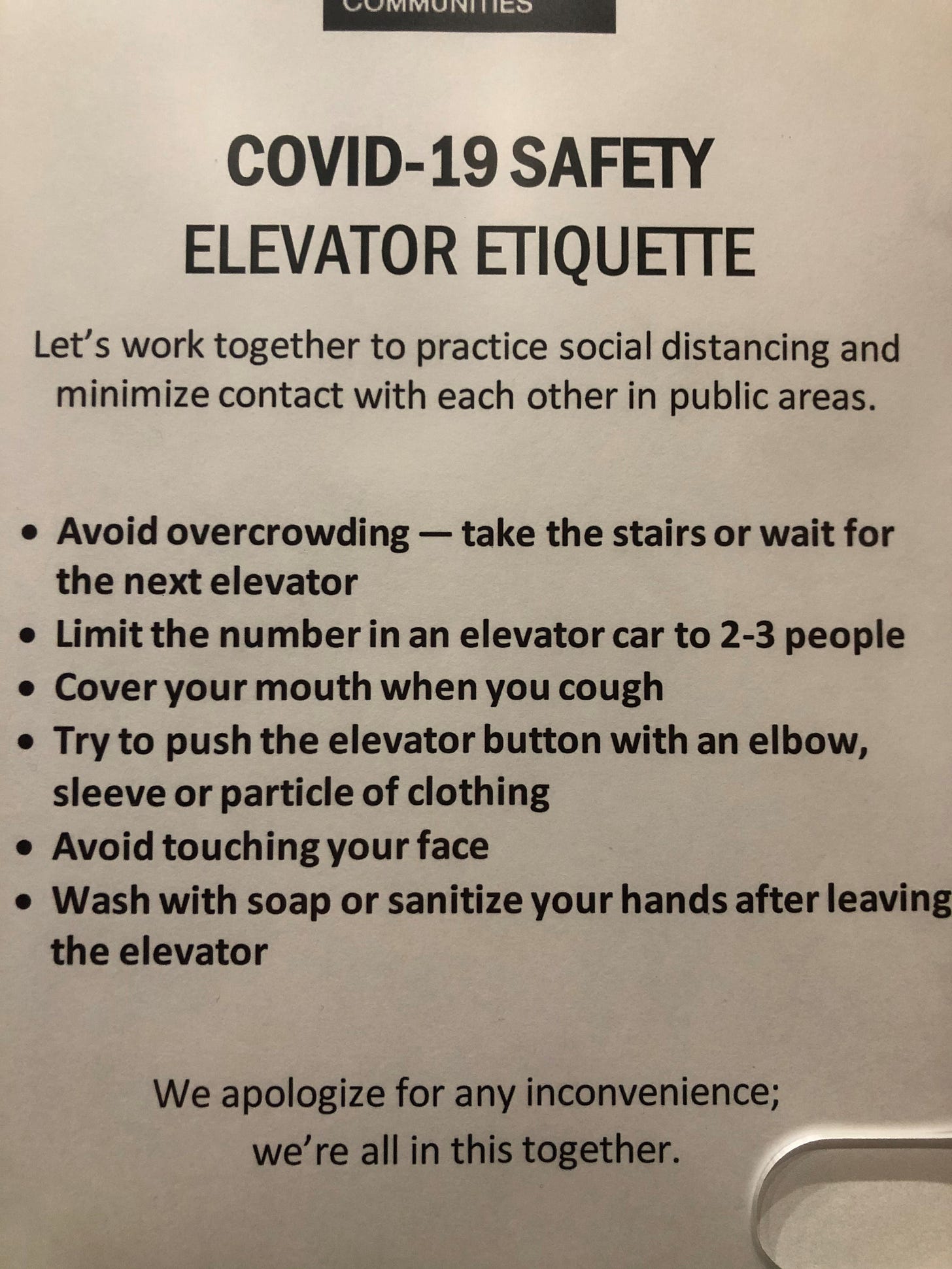 This sign threw me for a loop. Which particle of my sweater is the least corona-infected? I couldn't figure it out so I stepped aside & let the other person press the button.
These past few weeks have definitely challenged my ideas of what is socially acceptable; not so much in public but rather at home. Remember: no one in our house received a proper 3-hour, $400 "Crown & Crumpet" class. While "A Sprague" may be an untainted little cherub, a member of the Freed clan is not 😈 . Our family is a blended household…which has presented some debate over certain habits that - at one point - were forgivable & laughable. A month deep into quarantine, these questionable habits have sparked furious debate about our family's etiquette, common sense, and general expectations of each other.
For example, Daria generously re-organized the refrigerator. Now each food category has a slotted section: sauces (salad dressing, hummus) are next to leftovers; milk (almond, oat, 2%, half-n-half, buttermilk so many why?!) shares space with other drinks (Spindrift, iced tea); fruits are in the top drawer & veggies are in the bottom.*
After a trip to the store on Monday, I unloaded the bags & thoughtfully placed each item in its designated spot. Later in the day Daria opened the fridge & asked, "who put this here?" I confessed that I did. Apparently I had put something in the wrong place. I told Daria that I had considered leaving it out for her to put away because she knows exactly where everything belongs. Then I asked for her to show me where to move it. Her response? "I already gave you a tutorial. You should know." and she shut the door & and walked away. So basically I offended her which I'm sorry about but I still don't know where certain stuff goes. At this point she's doing it to herself by perpetuating this cycle of frustration by refusing to re-educate me.
*According to Trump, it was very well done. In fact the fridge organizing was sooo well done that the family said they never saw a fridge so organized. It is perfect; perfectly organized. Actually, it was hugely perfectly organized. And tremendous too!
Here are a melange of other ~situations~ we have encountered.
A swing & a miss.
The sink is located directly next to the dishwasher. It takes the same amount of time to place the spoon/bowl/glass in the basin as putting the dirty dish where is belongs. Why create another step in the process? It is lazy & just literally doesn't make any sense to me. At all.
Hide & Seek.

Peek-a-boo!

Gotcha!

You see, these are used paper products (towel, kleenex) that my mom "may need to use again." These droppings gross me out. They have always grossed me out. They appear all over the house: shoved in corners, tucked under baskets, in between sections of the newspaper. These crumpled, dirty balls hide in every single one of her pockets. This habit is so unsanitary & ESPECIALLY during corona it is just unacceptable. Rude, really. Because the corona germs are multiplying on our counters as opposed to suffocating in the trash. Ugh. My mom is 100% Freed so I have to take a deep breath & remember that she didn't inherit the Sophisticated Sprague gene.

Got any fruit? Go fish.

How many spoonfuls does it take to finish this fruit salad? Not enough for someone to save it.

Maybe you can relate; those moments when you grab the milk carton expecting it to be heavy only to realize that it has one drop left? Or you've been inspired to make the perfect parfait (!) with layers of Siggi's thick, delicious plain Greek yogurt and find one spoonful of yogurt left in the container? I have. Why did the culprit not just finish the last bite? Was it really going to push them over the edge? I wouldn't have conjured up such an incredible breakfast treat if I had opened the fridge & realized that there was no yogurt left. Spotting the Siggi's, smiling in anticipation, removing the lid…all those heightened my excitement and then BAM I am crushed. That is rude. Don't play me like that. Though my dad argues that he is "saving those calories for later" and that he is "full and finishing all the yogurt/fruit/cereal" (minus one bite) would be greedy. I see what he's doing there. My dad is a Sprague, which by definition means that courtesy is an innate quality. But come on, seriously. No one's fruit craving is going to be satisfied with 1/4 strawberry + 3 nibbles of apple + 2 blueberries. So please save everyone from disappointment & sacrifice those calories.

and then put the bowl in the dishwasher🙏🏻
While we have had some differing opinions, the Frague family (cute couple name!) has enjoyed (?) rediscovering each other's ticks. Some people don't replace the empty toilet paper roll. Others refuse to move when they're taking a personal call in a common space. Personally, quarantine has been entertaining & eye-opening & educational: regardless of how many passive aggressive comments (or "etiquette lessons") are doled out each day…you can't teach an old dog new tricks 🤷🏻‍♀️